Children Helping Children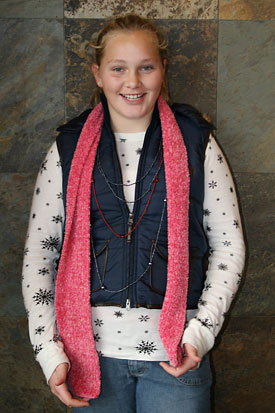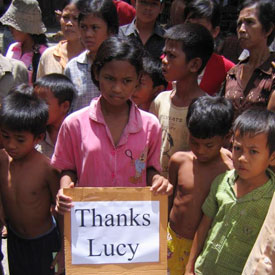 You needn't be wealthy, powerful, or even an adult to make a difference in the lives of others.
In just the sixth grade when she was introduced to the organization's work last spring, Lucy C. spent the summer picking fruit to raise funds for Stop Exploitation Now!. Earning 14 cents for every pound of strawberries picked, Lucy worked from 6 a.m. to noon each day. Slowly, pennies turned into dollars. By summer's end, Lucy's hard work had paid off. She donated enough money to provide clean drinking water for eight families in Cambodia. That's a significant contribution. Eight families, perhaps three- or four-dozen children, will have access to safe drinking water for several years thanks to the generosity of a single sixth-grader.
One of three children in her family, Lucy's generous spirit can be attributed in part to her parents. Her father, who joined her in the fields on occasion last summer, works for an organization serving new immigrants and permanent Hispanic residents in Western Washington. He and Lucy's mother, a teacher, volunteered abroad after meeting in college. Lucy spent time in Guatemala as an infant, her first spoken words a mix of English and Spanish. Today, when not dodging snakes hidden amidst the strawberries, she enjoys playing middle hitter on her volleyball team.
Lucy wasn't the only student in her class to raise funds in support of our work. Her teacher, Tamara Skeen, spearheaded a classroom fund-raising initiative. In addition to teaching them about the challenges faced by those in developing countries, Tamara encouraged her students to contribute to positive change by getting involved themselves. We at Stop Exploitation Now! would like to thank Lucy, her wonderful parents, Ms. Skeen, and the entire sixth grade class at Allen Elementary. From a teacher instilling global awareness among her students to children and parents demonstrating compassion for others, these individuals are making the world a better place. Their contributions to SEN are greatly appreciated.
Other Children Contributing to Better Lives
The story at Allen isn't the only example of children helping children at SEN. Coordinated by orchestra teacher David Upham, a musical performance at our fall benefit featured four teenagers from Newport High School. Musicians included Kun Woo K. and Jackie O. on violin, Alex C. on viola, and Natalie H. on cello. The young musicians performed beautifully, contributing an element of elegance to our event.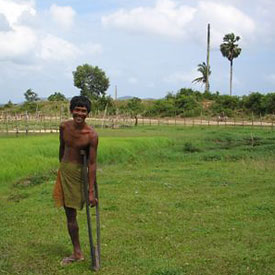 Children from the St. Louise Parish in Bellevue, Washington, donated money to fund a house and clean drinking water for a family in Cambodia. As a result of their donation, SEN was able to build a simple house for a landmine-disabled father and his family. The man, his wife, and several children had been living in a ramshackle chicken coop since the collapse of their old home in a major flood. We were happy to improve living conditions for them by providing a larger, sturdier home. We appreciate the generosity of the St. Louise children and commend them for caring about children in other parts of the world.
Also in Bellevue, Cub Scout Pack #633 held a penny drive and raised funds to provide wells and Red Cross water filtration kits for families living in Stung Hau, Cambodia. Illnesses resulting from unsanitary drinking water are among the leading causes of death for Cambodian children under the age of five. The contributions of Pack #633 will go a long way toward improving the health of several Stung Hau children and their families.
To the children at Allen Elementary, Newport High School, the St. Louise Parish, and Cub Scout Pack #633: Thanks! You've demonstrated that kids, too, can make a difference in the lives of others. Keep it up.